Rockin' Jump is going pink in October, and the Ultimate Trampoline Park is giving patrons an opportunity to jump in feet first to help a worthy cause while also having a wonderful time.
In support of Breast Cancer Awareness Month, Rockin' Jump is continuing its "Pinktober" campaign by trading in its trademark green Rockin' Socks for pink ones. During the month of October, guests who purchase a special pair of Pinktober Rockin' Socks will see a portion of the proceeds donated to various foundations for breast cancer education, research, treatment, and finding a cure.
The limited-time-only Pinktober socks are decorated with the "Jump for a Cure" logo and are perfect for bouncing, climbing and playing on Rockin' Jump's fun-filled play stations, as well as making a meaningful fashion statement outside the arena. Using your feet to kick in to the Pinktober cause is a fun and easy way to join Rockin' Jump in an effort to sock it to breast cancer.
"We are grateful to be able to help support those fighting for a cure," said Rockin' Jump Marketing Manager Lara Mays. "The Pinktober promotion is special for us and the families that support breast cancer awareness. It will be outstanding to see the community show up and jump for the cure."
Featuring 48 locations across the world, each Rockin' Jump franchise will contribute to the breast cancer and women's health foundations of their choice. For instance, the California location in San Carlos will be donating to the HERS Foundation, while the Rockin' Jump in Dublin will be contributing to the popular Bras For The Cause campaign.
"We love to support Bras For The Cause because it's an amazing organization filled with dedicated and passionate volunteers that want to find a cure," said Rockin' Jump Chief Executive Officer Drew Wilson, whose company has participated in Breast Cancer Awareness Month since 2011. "Rockin' Jump wants to do its part to help raise awareness and funds for all the deserving foundations."
Rockin' Jump Gives Guests the Chance to Join in the Fight to Knock Out Breast Cancer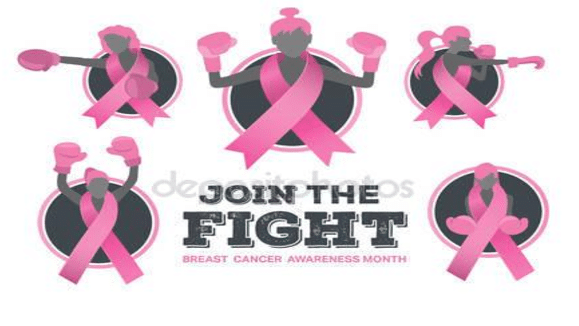 Joining the fight against breast cancer is a natural fit for Rockin' Jump's core values of providing Safe, Clean, Fun for families and promoting healthy lifestyles. And the Pinktober sock campaign allows Rockin' Jump's socially conscience customers to get involved in helping battle a major health epidemic.
In fact, breast cancer is the most commonly diagnosed form of cancer among women, according to the National Breast Cancer Foundation, and one in every eight women will be diagnosed with breast cancer during their lifetime, so odds likely we will know a mother, spouse, daughter or other loved one impacted. Here are some other important statistics about breast cancer:
Each year more than 252,710 women in the United States will be diagnosed with breast cancer, and more than 40,500 will die from the disease.
On average, a woman is diagnosed with breast cancer every 2 minutes.
Although breast cancer in men is rare, an estimated 2,470 men will be diagnosed with breast cancer, and approximately 460 will die each year.
More than 3.3 million breast cancer survivors are alive in the United States today.
Death rates from breast cancer have been declining since about 1990, in part due to better screening and early detection, increased awareness, and continually improving treatment options.
Knowledge is Power. Education is Key in the Ongoing Battle to Find a Cure for Breast Cancer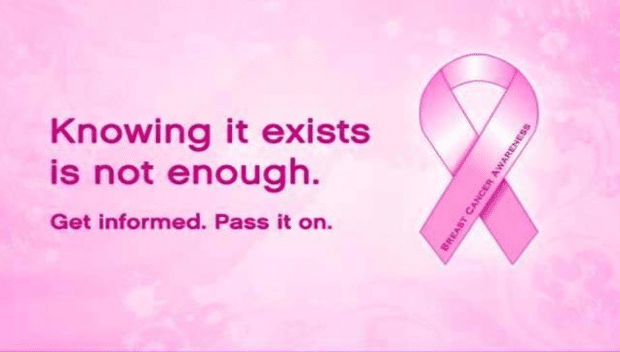 Of course, the primary goal of Breast Cancer Awareness Month is to educate the public about prevention, early detection and treatment. Breast cancer has a high survival rate of 98.6 percent if diagnosed in Stage 1, which requires regular screenings and check-ups. The American Cancer Society recently issued the following recommendations for women who should undergo mammograms:
Women with an average risk of breast cancer (most women) should begin yearly mammograms at age 45.
Depending on other risk factors (family history, medical background), consult your health care provider about when you should begin regular screenings.
Regular mammograms should continue for as long as a woman is in good health.
Many of the foundations on Rockin Jump's Pinktober donation list also help provide access to free and affordable mammograms to at-risk women, as well as invest in medical research, provide free information and services to those battling the disease, and support breast cancer survivors on their road to recovery. Rockin' Jump also allows patrons to do something good for themselves.
By sporting your Pinktober Rockin' Socks both on and off the play stations, you are not only raising breast cancer awareness and funds, but also helping yourself by participating in healthy exercise that can help prevent cancer and other health issues. Pinktober is a win-win for everyone involved!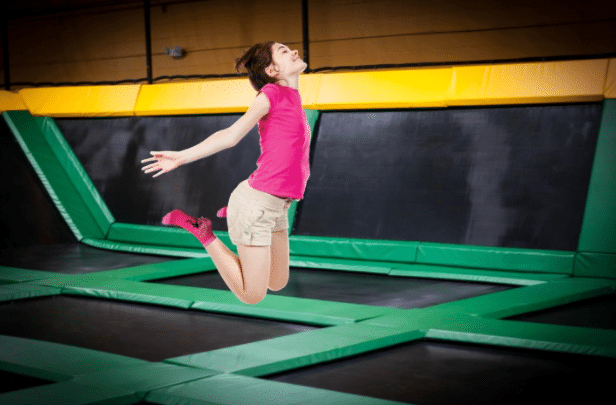 ABOUT ROCKIN' JUMP
Rockin' Jump, The Ultimate Trampoline Park, is dedicated to providing safe, clean fun for families and offering healthy alternatives for spending quality time together on our unique arenas and play stations. Featuring attractions that are designed with safety in mind and fun as the goal, Rockin' Jump offers a clean, climate-controlled and family-friendly environment where guests can enjoy a good workout while also putting a smile on their faces.
Rockin' Jump holds its 48 franchises to the strictest of standards to ensure safety and cleanliness, and our team of Jump Patrol employees constantly monitor the facilities, where patrons can soar in the Open Jump arenas, jump into pits of soft foam cubes, play trampoline dodgeball and basketball, and do flips and gymnastics moves on the Stunt Bag, among other activities. Rockin' Jump also hosts birthday parties and special events for groups looking for some good, clean fun.