With the summer season heating up and the kids settling into their school-free routines, it's that time of year when the little ones start to sing a familiar refrain – "I'm bored!" The classic parental comebacks like "Try cleaning your room" or "Have fun mowing the lawn" only work for so long before we finally get the message: They truly are bored.
It's hard to blame them after undergoing the dramatic shift in lifestyles. Following 10 months of structured schedules in school, sports and other extra-curricular activities, children experience a sudden windfall in free time and personal choices. Allowing them to sleep in and "veg out" over TV and video games might be OK for a couple of days of recovery time, but cabin fever can set in quickly during the summer. Finding fun, healthy activities is an important role for parents.
That's easier said than done under the summer circumstances of high heat and humidity in the great outdoors; unsafe, unsanitary and unsupervised summer swimming holes and summer hangouts; and an overall lack of family-friendly entertainment options available for youngsters. One recent trend addressing those issues is the increasing popularity of trampoline parks and other indoor play venues. However, all trampoline parks are not created equal.
Rockin' Jump Trampoline Park, the industry leader in providing "Safe, Clean, Fun," for the young and the young at heart, are held to strict standards for safety, sanitation and supervision that other indoor playgrounds do not follow. So before you load up the SUV and spend a lot of money at a venue because it is the closest or the cheapest, do a little homework. There are a lot of factors to consider when choosing the right trampoline park for your family: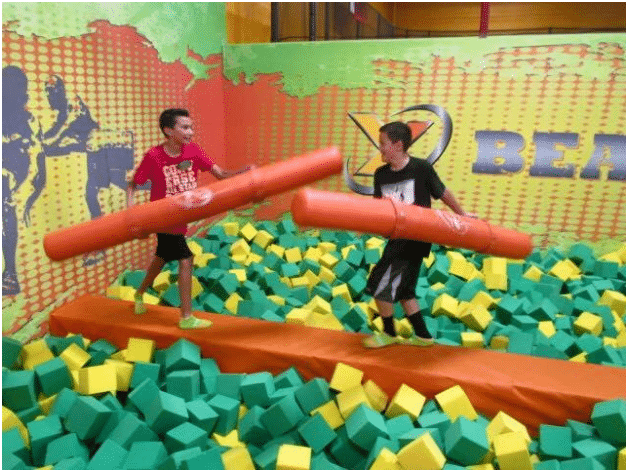 1) Attractions: First and foremost, a trampoline park has to be fun or all the other factors are moot. If the kids aren't entertained then the entire venture is a waste of time and money, so make sure the park you choose contains the key ingredient of fun.
There are parks that seem like glorified bounce houses with attractions that are way too small for older kids, and others are like one-trick ponies with only one fun exhibit that has your kids ready to head for the exit after 20 minutes.
Rockin' Jump features numerous attractions and play stations to keep the kids laughing and playing for as long as they still have the urge and energy. The Open Jump Area allows the little ones to grab some serious air and make a soft landing in the foam pit, while the padded Stunt Bag gives them a safe, soft surface to show off their best gymnastics moves.
Each Rockin' Jump has obstacle courses where patrons can test their skills against the clock, as well as play stations that offer head-to-head competition, such as the X-Beam jousting pit, the soft-toss Dodgeball Arena, the 360 Slam-Dunk Zone basketball goal, and the Vertical Ops rock-climbing wall. The only real issue your child might experience is deciding which of the many attractions to try next.
2) Safety: You might have heard horror stories concerning some fly-by-night play parks being cited for blatant safety violations. Unsecured bounce houses and inadequate amount of padding on play equipment can be dangerous for kids, who trust us to put them in an environment where they won't be harmed. Parents have an obligation to ensure they stay safe.
That's why so many families trust the Rockin' Jump franchise, which is a founding member of the ASTM (American Society for Testing and Materials) International, a not-for-profit group that studies amusement safety and sets the standards for the industry. Rockin' Jump also implements its trademarked JumpSafe program to provide its guests the maximum level of safety. Rockin' Jump's management team members attend regular meetings to make sure each chain adheres to the latest safety developments.
Another program that sets Rockin' Jump apart is the Jump Patrol, a team of employees who monitor and report any matters that need to be addressed, such as safety issues or crowd control. Rockin' Jump parks undergo routine safety inspections and maintenance procedures to find issues before they become problems.
Rockin' Jump's trampolines are fully covered in padding and special redundant netting to soften any blows and prevent jumpers from slipping through any gaps. The special no-slip socks help prevent slippage and friction burns. The little ones also get some solo time during special hours to cut down on potential collisions with bigger kids, and special-needs children receive extra care in helping them enjoy the experience.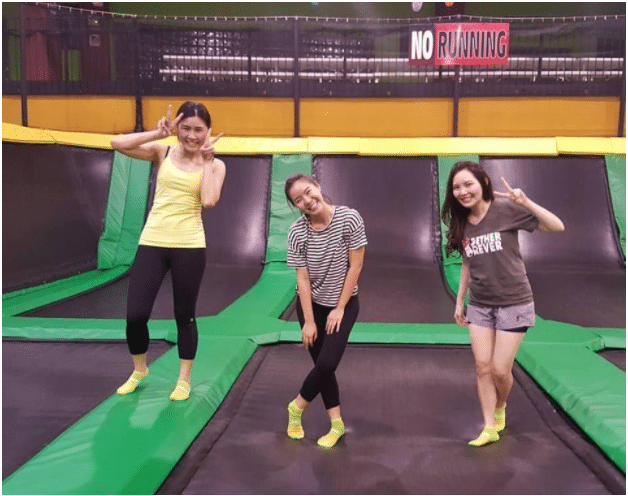 3) Atmosphere: This one may be a bit hard to define, but you know it when you see it. Sometimes you can tell just by walking in the front door whether or not you are in the right place.
A good indicator is whether the trampoline park is located in a cookie-cutter strip mall unit that might just as easily house a sandwich shop or a shoe store, or if it's a facility designed with play in mind – a spacious layout with high ceilings that is well-lit and tidy, and features a fun, lively vibe.
Perhaps the biggest comfort factor is air conditioning. The body heat generated from dozens of munchkins working up a sweat can rapidly turn room temperature into a pizza oven. The heat can take a toll on kids with respiratory or heat-related conditions, such as asthma and airborne allergies. Rockin' Jump uses a state-of-the-art ventilation system to keep the air cool and clean throughout the facility. The climate-controlled environment allows the little ones to stay cool in the heat of all the action.
4) Cleanliness: Some indoor playgrounds can be a nightmare for parents. The kids may see them at the mall or a fast-food restaurant and want to play while parents cringe at the thought of the potentially harmful bacteria that has accumulated on the equipment since its last cleaning. Children have no concept of the danger that can lurk inside these junior germ gyms.
Rockin' Jump goes above and beyond to ensure your children have a clean environment to play in that is free of potentially harmful materials. The strict requirements of sockwear and a "no food and drink" policy on the arena surfaces go a long way toward avoiding possible contamination, and each outlet has employees dedicated to monitoring, reporting and cleaning any issues immediately, including the restrooms, lounge and party rooms.
Rockin' Jump's goal is to ensure that a happy and healthy atmosphere is maintained and your expectations are met and exceeded. Hand sanitizer stations are located throughout the facility, and franchises adhere to rigorous standards set by the national headquarters to provide an environment that fosters fun through healthy exercise and the spirit of friendly competition.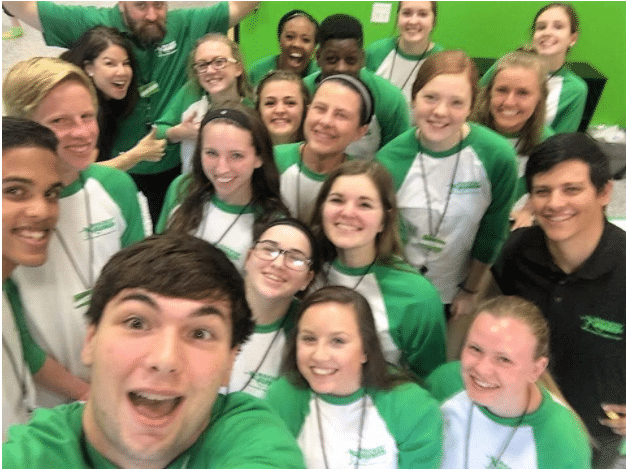 5) Staff: Here's an easy way to tell if you have picked the right trampoline park, but you might not find out until after you've arrived. If you walk in the front door and there's one person behind the counter, but no other employees monitoring the play stations, or they are greatly outnumbered by swarms of kids, you probably want to do an about-face and find another park.
That's not an issue at Rockin' Jump. Not only will you be warmly greeted at the check-in desk by friendly staff members, but you will also notice members of the Jump Patrol stationed throughout the facility to monitor for safety, cleanliness and address any issues they discover. Rockin' Jump encourages patrons to ask any questions or report any issues they encounter.
Jump Patrol team members provide a wide range of services, including the enforcement of safety rules and regulations, and attending to any special needs or requests. They also get involved in the action, ensuring that smaller children aren't at risk around teens and 'tweens, and that all kids are included and permitted to take part. It's the kind of friendly, attentive staff Rockin' Jump provides to enhance the experience.
6) Food and Beverage: Just as there are good and bad restaurants everywhere, the same is true of food and beverage services at trampoline parks. Some offer only vending machines for drinks and snacks, while other provide concession stands with limited selections of fountain drinks and microwavable food items. Not exactly the type of place you would choose to dine.
But Rockin' Jump has its own line of restaurants with the Rockin' Cafe, offering on-site service and a nice variety of food and drink items one normally wouldn't associate with a trampoline park. Perhaps the most popular dish, especially among the little ones, is pizza. No frozen pies here; just freshly baked, made-to-order pizzas that taste as good as any parlor in town. Guests can also order sandwiches, salads, pretzels and a broad array of beverages, sports drinks and lemonade.
Rockin' Cafe also offers a clean and comfortable seating section where kids can take a break from the action and chill out with a cold drink and some hot snacks. But honestly, with all the high-flying fun going on around them, they usually don't stay seated for very long. For parents who love seeing a smile on their children's faces, it's a good problem to have.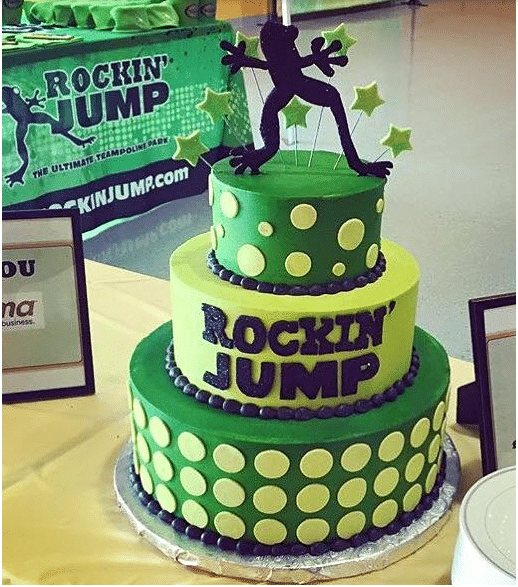 7) Birthday Parties: Many indoor playgrounds offer birthday parties, but they are the ones who end up getting a big present. They charge large fees but deliver little in the way of meaningful birthday celebration, often hosting multiple parties at the same time, even in the same room. The birthday boy or girl can leave feeling like their day was anything but special.
Rockin' Jump has perfected the art of the birthday party, offering private party rooms for pizza, drinks, and, of course, birthday cake. Each group is assigned their own attendant to coordinate with the parents and personalize a party just for the guest of honor. Party packages allow groups of 10 or more to enjoy the park and have a great time with good friends.
Remember, it doesn't have to be someone's birthday to book a party at Rockin' Jump. Any special occasion, like a team outing or a back-to-school party, is a good reason to celebrate. Book your party plans at Rockin' Jump and watch the kids count down the days.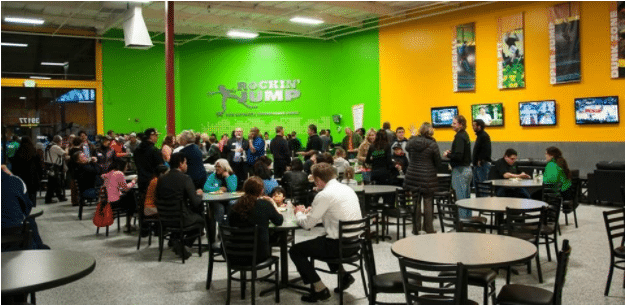 8) Parent-friendly: Trampoline parks are supposed to be for the kids, which is exactly the way most parents prefer it. But few put the effort into making sure the paying customers – the parents – are pleased during their time in the facility. Many moms and dads find themselves sitting in a child-sized chair, reading a month-old magazine, and counting down the minutes till departure time.
That's not the case at Rockin' Jump, which puts parents first (or at least a first-place tie with the little ones). Parents are permitted to join in the fun on the arena floor with their kids, which is a great way to get some exercise and experience some family bonding time. However, many parents prefer to let the children have some time with their friends while they take a parental timeout.
Rockin' Jump offers the perfect place for parents to chill in the lounge area. Each outlet provides free Wi-Fi so parents can catch up on some work or surf the Internet while the kids play. The lounge also has multiple TV sets so parents can watch one of their favorite shows while also keeping an eye on the kids via our closed-circuit TV monitors, which live stream at each play station. Enjoy a cup of coffee or a frozen treat from the Rockin' Cafe while you relax and watch from the sidelines.
Attractions, Atmosphere, Safety, Cleanliness, Staff, Concessions, Birthday Parties and Parent-Friendliness – all are important factors for finding the right trampoline park for you and your crew. But when you weigh them all, Rockin' Jump stands out head and shoulders above the crowd of indoor play venues. With 40 locations nationwide and growing, there's a good chance you are within driving distance of a Rockin' Jump franchise, and the value you receive is worth the trip. Your family is sure to find a fun and safe landing at Rockin' Jump.