Become A Corporate Member Today!

Give your employees a corporate benefit that reaps perpetual health and happiness rewards! As a corporate partner, your employees and their immediate family members will enjoy 20% Off of our standard Open Jump Time prices and $25 off of any Open Jump Time birthday parties.
PLUS, employers receive 20% Off standard gift card purchases made as incentives/rewards for their employees.
Featuring:
15 different attractions – fun for all ages
28,000 sq ft venue
On-site cafe
Break out party rooms
Capacity for up to 180 guests
We do require an initial $24 sign up fee to offset the cost of creating a custom flyer for your business for promoting our partnership. Discounts do not apply to monthly memberships or junior jumper time admission or junior jumper time parties. Employees can also receive a 20% discount on full price gift cards only. Corporate membership discounts cannot be combined with other discounts/promotions.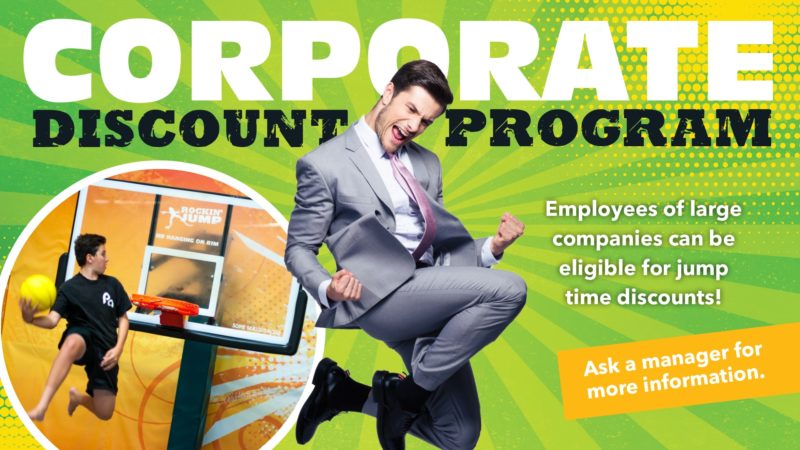 Please fill out the contact form below if you are interested in our Corporate Membership Program.
"We just wanted to let you know how impressed we were with the amazing customer service of your manager Jenn at your Eagan Rockin' Jump location. She went above and beyond to make sure that we had what we needed in regards to having enough time to jump and enough space for our group. We would definitely encourage others to bring their groups there. We look forward to bringing our group back again next year."
Gittel and Dena
Friends 'N Fun