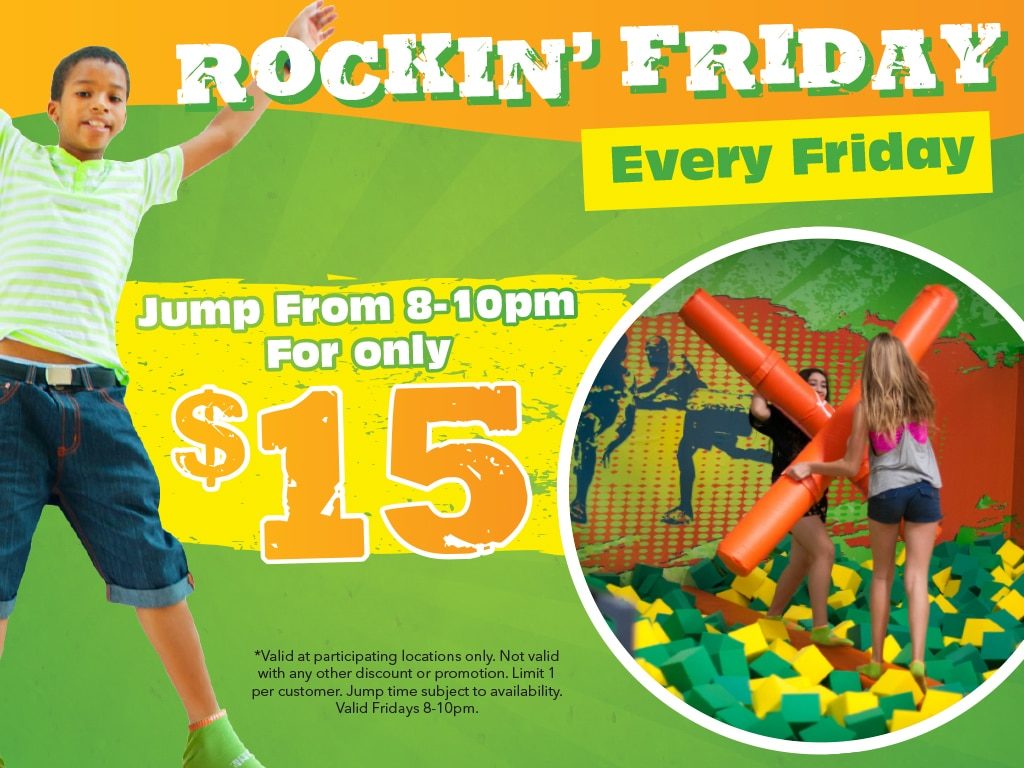 TWO HOURS OF JUMP TIME, PARTY MUSIC & DANCE  HALL LIGHT EXPERIENCE FOR JUST $15 PER PERSON 8PM-10PM EVERY FRIDAY NIGHT! 
Rockin' Fridays is our dedicated time for all ages to mix and mingle with friends while jumping to today's top hits from 8:00 pm to 10:00 pm. We turn on the party lights and turn up the music. Be ready to jump, laugh with friends, and enjoy an evening of "fitness and competition disguised as fun". There is something for everyone at the Rockin' Jump Eagan indoor trampoline park, whether you want to climb, jump, dodge, dunk or relax and have a bite to eat, we are the place for you.
General Rules:
Signed waiver* by parent or legal guardian is required. Please read below for details.
School ID required to attend if under 18
No backpacks allowed inside
No water bottles allowed inside
Dress code enforced – parents have asked us not admit or allow jumpers with short shorts or clothing that is overly revealing.
Drug and alcohol free zone!
To maintain a safe and clean environment, participants must jump in our reusable ROCKIN' SOCKS for $2.50. For safety reasons outside socks are not allowed within the Rockin' Jump indoor trampoline park.