2019-2020 After School Care
School Bus Transportation Provided From: Myrtle Beach Early Childhood School, Myrtle Beach Primary School, Myrtle Beach Elementary School, and Myrtle Beach Middle School.
Ages: 5 to 12
Dates: August 19, 2019 – June 3, 2020 Weekdays on School Operating Days including Half Days, School Vacation Days that are on Weekdays November 27 and 29 (except Thanksgiving Day and Christmas Day), December 23, 24, 26, 27, 30, 31, January 1, 2, 3, Early Dismissal on January 17 and Teacher Workday January 20. Please check back on this page for future date updates.
Pick up: 4:00pm – 6:00pm
1st Student: $65 per week
Siblings: $58.50 per week
After School Care Fee Includes:
Homework Time
Jump Time
Structured Jump Training
Snack
Payment: We will contact you once we receive your student's registration to make your Payment via phone or at the park. Payments must be made in full on the Friday before the coming week's program. Payment is for the week no matter how many days the student is able to attend. After you make your first payment, please allow up to 2 days for HCS Bus Transport coordination before your child begins the program.
Note: Rockin' Summer Camp will be held for 10, 1-week sessions in 2020! Students in the After School Care Program will get to register early for Rockin' Summer Camp to reserve their space.
Sick or missed days: No refunds policy.
The Ultimate Jumping Experience
A SIGNED WAIVER IS REQUIRED FOR EVERY ROCKIN' JUMPER. If under 18, the waiver MUST be signed by your PARENT/GUARDIAN. Please complete the online waiver. Once you are in our system, you will not have to fill out another waiver for a full calendar year. Please make sure you arrive 10 minutes before your scheduled time. If you are not there on time, then your spot may be given away to a stand by ROCKIN' JUMPER.
To maintain a safe and clean environment, participants must jump in our reusable ROCKIN' SOCKS for $3.00. For safety reasons outside socks are not allowed within the Rockin' Jump Myrtle Beach indoor trampoline park.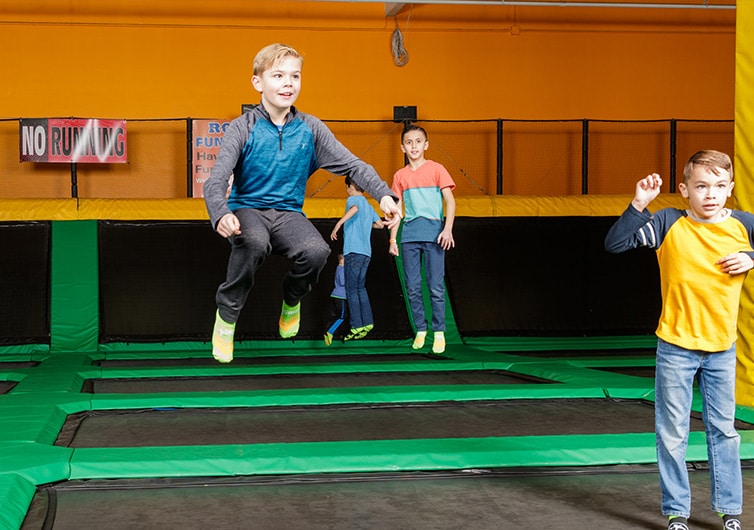 "There is no better better place to take a high energy, super social 10 year old grand kid."Ann E.