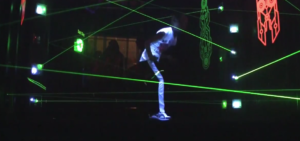 Exclusive TripWire Attraction Features High-Tech Interactive Experience at Rockin' Jump in San Carlos!
The latest bay area attraction at The Ultimate Trampoline Park®, offers an exciting laser maze game challenge that is captivating the guests with its high-tech interactive play.
You will enjoy completing a variety of objectives while being surrounded by a web of laser beams you must navigate carefully just like in the spy movies to achieve the high score and complete your mission. This is one challenging course you MUST try now!  Have a birthday party coming soon? What a fun way to entertain your birthday guests – LEARN MORE today.
Check out this great video that really show the TripWire experience at Rockin' Jump: