Birthdays only come around once a year, and there's only a small window before children outgrow the traditional kids' birthday party. That's why parents should make each trip around the sun count by throwing the ultimate fun-filled, hassle-free birthday bash at The Ultimate Trampoline Park – Rockin' Jump.
Known as a popular launching and landing pad for active kids, Rockin' Jump is more than a fun place to play; it's also the perfect spot to celebrate your child's special day in a way that doesn't involve pinning a tail on a donkey or bashing a piñata to pieces . Let the little ones burn off some steam (and burn off some calories from the birthday cake) on our safe, soft-padded sports arenas, and give your child the full birthday experience with our party packages, private rooms and pizza parties.
A Rockin' Jump birthday party is sure to be a fun and memorable experience for your birthday boy or girl and their guests, and family members are free to tag along for the festivities. Each guest goes home with smile on their face, and your child receives the greatest birthday gift of all – a wonderful childhood memory. Here are five reasons to host your child's next birthday at Rockin' Jump: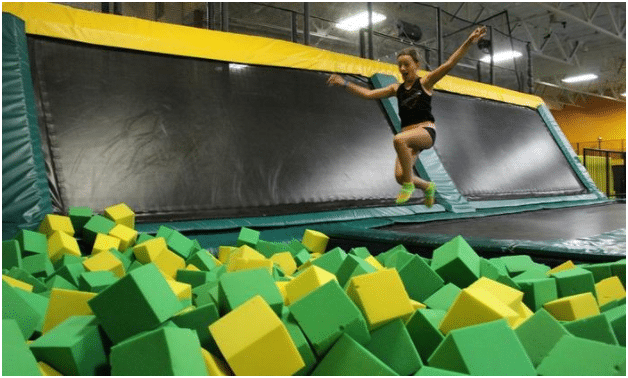 A-Plus Attractions
The best reason to hold your child's birthday at Rockin' Jump is the same thing that keeps kids coming through our doors the other 364 days a year – FUN! Our play stations are safe, clean and provide healthy entertainment, so kids can just focus on having a good time.
Rockin' Jump's Stunt Bag and Open Jump Area trampoline floor let your party guests and guest of honor practice their acrobatic moves and catch some serious air. The Dodgeball Arena and Slam Dunk Zone basketball court adds a new twist to the traditional sports, and the X-Beam jousting arena with a padded landing pit allows kids to go mano a mano with giant-sized Q-Tips.
Party-guest patrons can also put themselves to the test against the clock on the Ninja Warrior Challenge obstacle course and the Vertical Ops rock-climbing wall. Swing on ropes and Olympic rings to traverse the obstacles, and scale the soft and safe, 30-foot wall to be the first to ring the bell. These aren't you usual birthday party games, which is exactly why your child and guests will love it.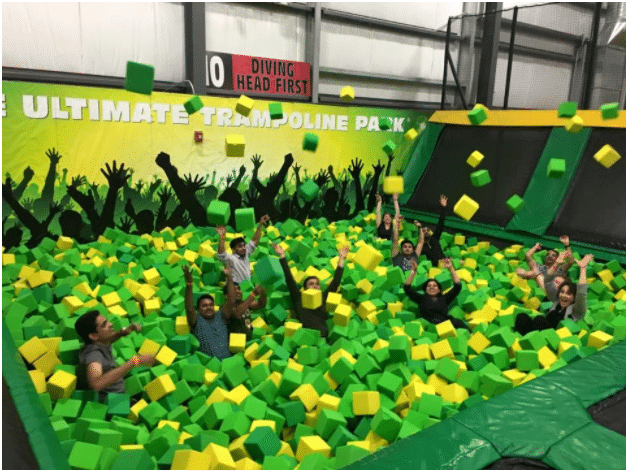 Hassle-Free Planning
Not only are children thrilled about celebrating their birthday party at Rockin' Jump, so are parents. In addition to giving your kid the ultimate birthday gift of a great time, you will receive the much-needed present of saving precious time and effort on party planning by letting Rockin' Jump's birthday experts handle all the details.
Forget about the entertainment, food, drinks and invitations; it's all under control at Rockin' Jump. Simply call our birthday-party professionals to select a party package (or fill out an online birthday party form below), make out your guest list, and we can take care of the rest. Rockin' Jump offers online invitations that allow other parents to sign the required waiver form in advance, as well as a diverse party menu.
Basically, you pick the date, time and a party package, and Rockin' Jump will make it happen. Parents don't have to worry about the pre-party set up or the post-party clean up so they can enjoy the experience of watching their birthday boy or girl have a great time. It's never been this easy to throw a birthday party.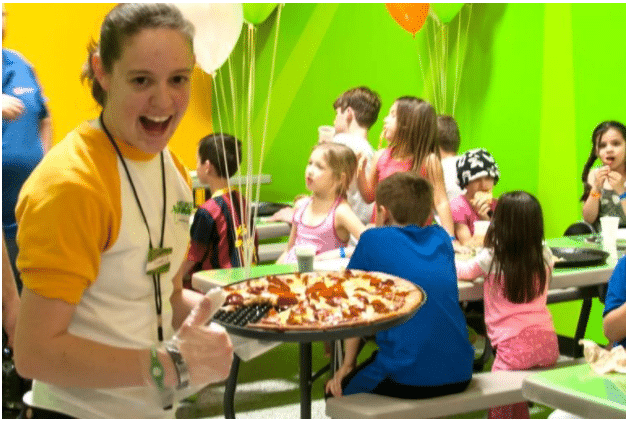 Helpful and Friendly Staff
Some restaurant and entertainment venues handle birthday parties with an assembly line approach: Sing the birthday song, put a funny hat on the birthday guest of honor's head, and give them a free dessert with a reused candle. The special moment lasts about as long as it takes the staff to move on to the next table.
That's not the case at Rockin' Jump, where our dedicated team of party hosts go the extra mile to make sure your birthday boy or girl gets the special treatment on their special day. Each group is assigned its own personal party planner, who handles everything from the invitations to cleaning up after the shindig.
Having one point person handling the party also allows parents to take a break and enjoy the experience. Rather than running around trying to make everything perfect and missing out on the fun, Rockin' Jump lets you relax in the Rockin' Café and watch the kids play via closed circuit TV, or get into the action and join in the fun on the arena.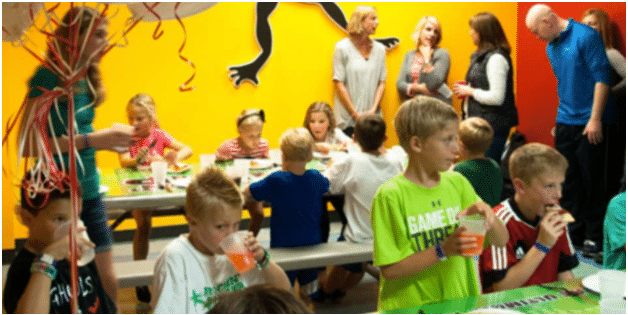 Party Rooms
You may have visited one of those birthday-party factories that cram kids into small space for a quick cake ceremony. Not at Rockin' Jump, where guests have plenty of time, space and privacy to eat, drink and be merry for the birthday party festivities.
Most Rockin' Jump birthday parties lasts about 2 hours , although additional time may be added to make the event last a little longer. Guests get about 90 minutes of bounce time on the play stations, and about 30 minutes in the Rockin' Jump party room.
Held to strict standards for cleanliness and crowd size, the party rooms provide your birthday boy or girl and their guests a nice environment for cutting the cake and opening the presents. The trademark green and orange-decorated party rooms offer a fun and comfortable atmosphere for an extra special birthday bash.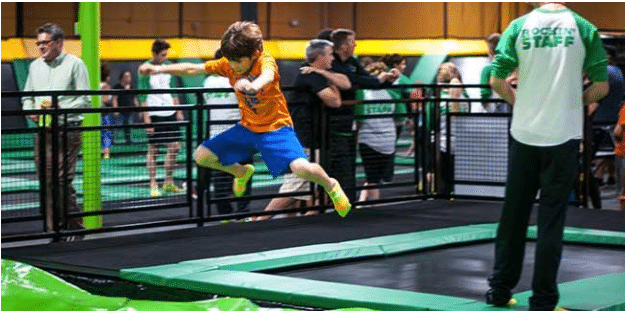 Something for All Occasions
It doesn't have to be a birthday to plan a party at Rockin' Jump. Our party packages are also available for a variety of special occasions, such a sports team outings, school or club functions, or graduation parties.
And you never have to worry about the weather when you book a Rockin' Jump party; the fun and festivities always get the green light. Our climate-controlled facility provides the perfect place to play any time of year, from those hot and sticky summer months to those cold and dreary winter days and nights.
But the ultimate reason to book your party plans at The Ultimate Trampoline Park is that everyone loves Rockin' Jump. From the thrill-seeking kids and hard-to-please teens to the young-at-heart parents and just plain young toddlers,
Rockin' Jump shows everyone a good time, even the parents who decide to relax and watch their kids playing on closed-circuit TV from the comfort of the Rockin' Café. Ain't no party like a Rockin' Jump birthday party.