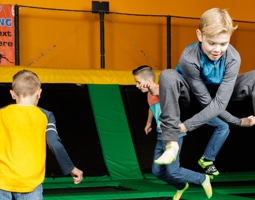 Open Jump Arena
Open Jump Arena is our main jumping and fun zone where friends jump together and perform acrobatics while our Rockin' Jump staff monitor safe play from all angles.
Watch Video

→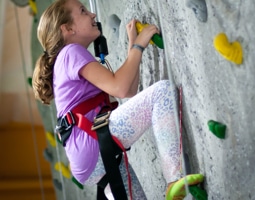 Vertical Ops
Climbing lanes vary in difficulty from beginner to advanced. The first climber to the top that rings the buzzer wins. A main attraction for our ultimate birthday parties!
Watch Video

→
Aerial Silks
Ready to take to the skies? Once limited to an elite few, now Rockin' Jump brings the amazing art of aerial silks to you! This amazing attraction is suitable for every skill level. Whether you want to build upper-body and core strength, increase range of motion and flexibility, challenge your fears or develop your creativity, this is the attraction for you. Watch how your body and mind transform when your feet leave the ground!
View Attraction

→
Slack Line
Test your balance and your concentration on the Slack Line! Challenge your friends to see who can make it all the way across without falling into the foam pit below.
View Attraction

→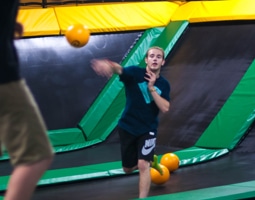 Dodgeball
We combine the thrill of classic dodgeball with the excitement of The Ultimate Trampoline Park®. A great time for birthday parties, group and corporate events, and field trips.
Watch Video

→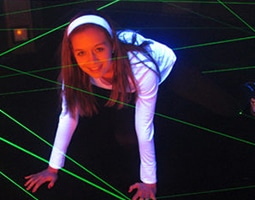 Tripwire Laser Maze
This new attraction is an exciting laser maze game that is captivating the world with its high-tech interactive play. You will enjoy completing a variety of objectives while being surrounded by a web of laser beams you must navigate carefully just like in the spy movies to achieve the high score and complete your mission.
Watch Video

→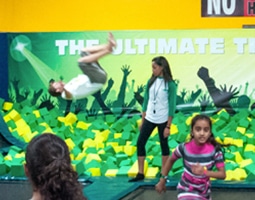 Foam Pit Arena
Feel the freedom of flying in a JumpSafe® and clean environment, where you can flip and jump into an arena filled with thousands of foam cubes.
Watch Video

→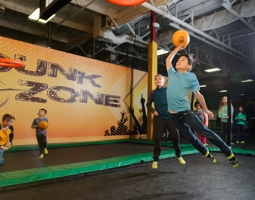 Slam Dunk Zone
Not in the NBA yet? You'll feel like you are! Slam Dunk Zone, where you can slam dunk like a pro on trampoline launch pads that can bounce you high in the air. Show off your dunk today!
Watch Video

→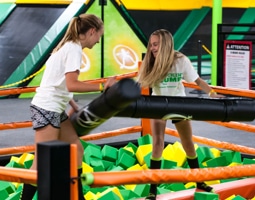 X-Beam
Choose your padded lance, and have a blast as you work to maintain your balance while trying to knock your opponent from the beam. Someone has to be the X-Beam Champion!
Watch Video

→
"There is no better better place to take a high energy, super social 10 year old grand kid."
Ann E.