Fun for Toddlers in a Safe Environment
We understand trampolines are fun but big kids and toddlers don't always mix. Rockin' Tots offers a dedicated time when parents can have fun with their smaller children while socializing with their friends in a comfortable, low-key, air conditioned environment.
---
Rockin' Tot Hours
Our Rockin' Tots jump time will be held Tuesday thru Friday from 9:00AM to 12:00PM, Saturdays from 8:00AM to 10:00AM, and Sundays from 9:00AM to 11:00AM. Holiday hours may apply. Just think, you can burn as many calories playing with your children at our indoor trampoline park in 10 minutes as you would running for 33 minutes, and still fit in time to socialize with your other Rockin' Tots friends. Does that sound fun or what?
Rockin' Tot Prices
The cost (Parent and 1 Child up to 6 years old) for 3 hours of Jump Time weekdays Tuesday thru Friday for $15.00, and 2 hours of Jump Time Saturday and Sunday for $15.00. Each additional child will cost only $5.00. Additional Parent Only $12.
$AVE an additional $3 off with a Frequent Jumper card.
To maintain a safe and clean environment, participants must jump in our reusable ROCKIN' SOCKS for $2.50. For safety reasons outside socks are not allowed within the Rockin' Jump Westerville indoor trampoline park.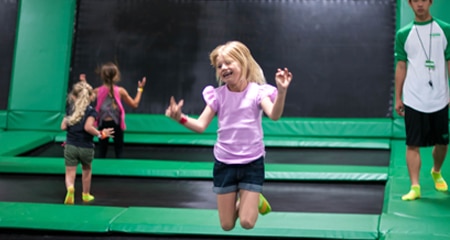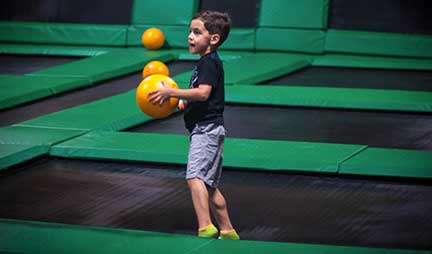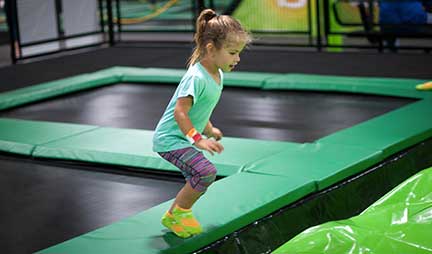 "I haven't had this much fun in a long time! I definitely recommend bringing your friends and family to a special Rockin' Jump event!"
Will W.