Let's
Party!
---
Take your child's birthday party to the next level by hosting it at Rockin' Jump in Brown Deer, WI. Invite their best friends for some high-flying fun and an unforgettable birthday party experience at The Ultimate Trampoline Park ®.
Rockin' Jump Birthday
Party Packages
Rockin' Jump
Birthday Parties

Include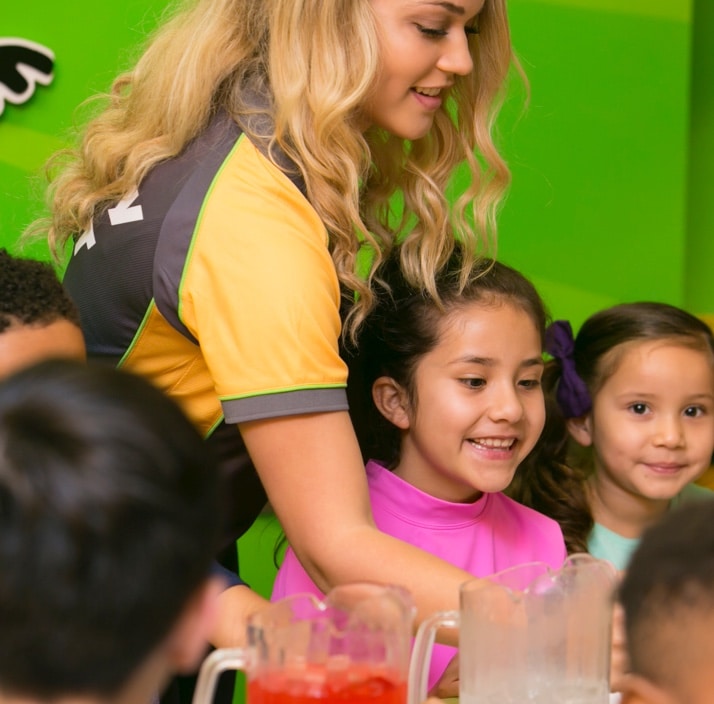 Party Host
---
Let Rockin' Jump's dedicated staff handle all the details and cleanup while the birthday boy or girl and their party guests focus on having fun.

Rockin' Jumps birthday party packages are a total of 2 hours in length which include 2 hours of Jump Time and 1 hour and 45 minutes in the private party room for birthday festivities.

When booking online, you may add additional jumpers and pay any additional balance on day of party.
Free Online Invitations
High-Flying Action
---
Parties have full access to the park, which includes:
Open Jump Arenas
Dodgeball Arena
Slam Dunk Zone
Lounge Space (Massage Chairs)
And more!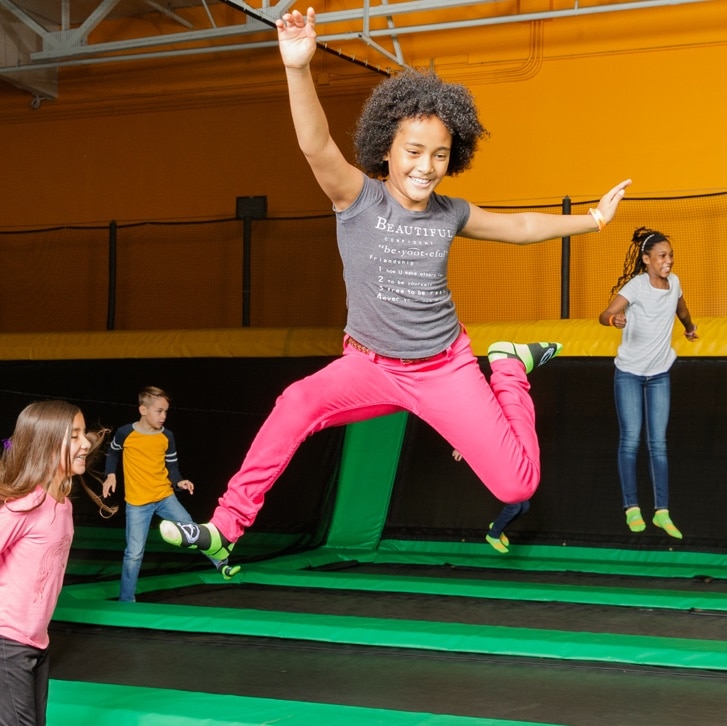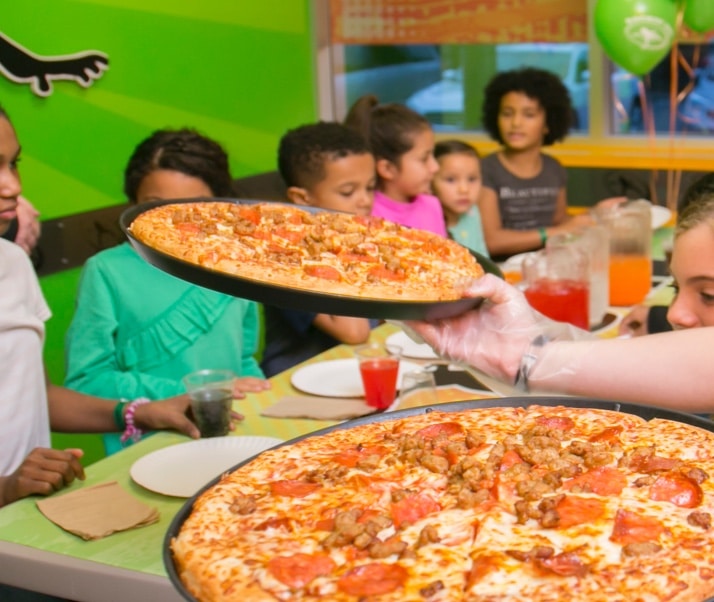 Party Room with Pizza!
---
The private party room allows your guests to relax and socialize over pizza and refreshments while the guest of honor opens presents and celebrates with friends. Rockin' Jump even provides a special birthday gift for the guest of honor! Party rooms are popular, especially on the weekends, so be sure to book your birthday in advance. Call us today and we'll answer any questions you have to start planning your kid's birthday party details!
Brown Deer, WI:
414-522-1945
Rockin' Jump
Birthday Parties FAQ
What is the best way to book my birthday party?
Booking a birthday party at Rockin' Jump Brown Deer can be accomplished in 1 of 3 easy ways: 1) click on a Party Package option (located above) and book your party through our online reservation system, 2) call our friendly and helpful staff at 414-522-1945 to book your reservation over the phone, or 3) stop by our location at 9009 N Deerbrook Trail in Brown Deer, WI during regular hours to speak with our staff in person.
As a word of warning, our birthday party packages are popular and our private party rooms are in demand, especially on the weekends. We recommend contacting us to schedule your child's special day at least two weeks in advance.
Do I need to bring food to my birthday party?
No. There's no need to worry about bringing food to your child's birthday party. Rockin' Jump can handle it all! Our fresh, hot pizzas are made on site, along with a variety of other Rockin' Extra menu items to satisfy all tastes.
Outside food and beverages are not permitted but guests can bring in their own birthday cake, if they have a pre-booked birthday party in one of our party rooms. We provide all the Rockin' Jump-themed plates, cups, utensils and napkins. Guests may bring goodie bags as gifts for party guests.
Do I need to bring my own decorations?
No, although guests may bring their own decorations to customize their child's birthday party experience. Your personal party host can assist you in handling any special requests for the guest of honor.
However, Rockin' Jump's private party rooms are colorfully decorated in our distinctive green and orange logos to provide a festive atmosphere even without additional birthday party decor and party favors. Please, no silly string, confetti or pinatas.
What time should I show up to the venue?
All guests should arrive 10 minutes before the scheduled start time so that everyone in your group can check in, and to ensure that guests taking part in the attractions are ready to get the party started.
Participating guests are required to wear a pair of Rockin' Jump's jump socks, and have an official Rockin' Jump waiver signed by a parent or legal guardian. This can be done online or in person during party drop-off.
Can I change the date?
Birthday parties are non-refundable but may be transferred to another date with advanced notification. To change your party dates, call us at 414-522-1945.
What is the cancellation policy?
Birthday party packages are non-refundable and are due in full at the time of booking to reserve your private party room and jump time.
When will I get charged for my birthday party?
Rockin' Jump party packages require a 100 percent, non-refundable deposit at the time you book your party in order to reserve jump time and space in a private party room.