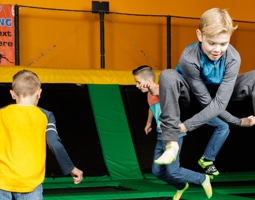 Open Jump Arena
Open Jump Arena is our main jumping and fun zone where friends jump together and perform acrobatics while our Rockin' Jump staff monitor safe play from all angles.
Watch Video

→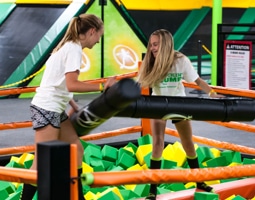 X-Beam
Choose your padded lance, and have a blast as you work to maintain your balance while trying to knock your opponent from the beam. Someone has to be the X-Beam Champion!
Watch Video

→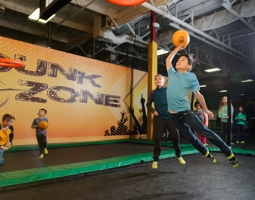 Slam Dunk Zone
Not in the NBA yet? You'll feel like you are! Slam Dunk Zone, where you can slam dunk like a pro on trampoline launch pads that can bounce you high in the air. Show off your dunk today!
Watch Video

→
Virtual Reality Arena
140+ amazing VR Experiences! From diving down a steep roller coaster to racing a street bike to flying a jet plane! Climb In & Hang On!
Learn More!

→
Virtual Reality 7D Cinema
Experience the ULTIMATE in full immersion Virtual Reality! Put on your seatbelt – this one is a WILD ride! Connect up to 8 people in 1 experience!
Learn More!

→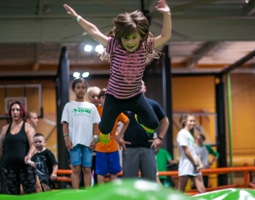 Stunt Bag Arena
Feel the freedom of flying, flipping and jumping, in a JumpSafe®, clean environment.
Watch Video

→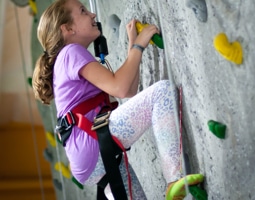 Vertical Ops Climbing Wall
The Vertical Ops Climbing Wall is the ultimate multi-level skill challenge and nothing short of amazing. Take your time and successfully climb your way to victory, or race your friends to see who can be crowned king or queen. First one to climb to the top and ring the buzzer wins!
Watch Video

→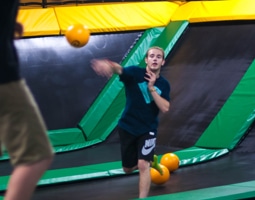 Dodgeball
We combine the thrill of classic dodgeball with the excitement of The Ultimate Trampoline Park®. A great time for birthday parties, group and corporate events, and field trips.
Watch Video

→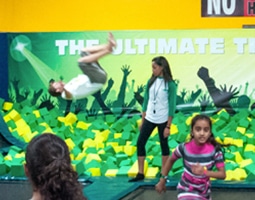 Foam Pit Arena
Feel the freedom of flying in a JumpSafe® and clean environment, where you can flip and jump into an arena filled with thousands of foam cubes.
Watch Video

→
"There is no better better place to take a high energy, super social 10 year old grand kid."
Ann E.