While children are anxiously counting down the number of school days left until the start of summer break, parents are on the clock to find healthy and fun summer activities to keep the kids entertained and occupied. It is very easy for children to slip into a routine of sleeping late or spending too much time playing video games. Before you know it, summer is over.
Parents have to walk a fine line between giving their children time and space to do their own thing, while also motivating them to exercise and discover new things that can grow into life-long healthy habits and hobbies. But the bottom line is it has to be fun and interesting to them. The goal is to engage them in healthy summer activities where they will have an excellent time.
That's where Rockin' Jump Carol Stream – The Ultimate Trampoline Park, comes into play. Featuring state-of-the-art safety equipment in a clean, climate-controlled environment, Rockin' Jump provides a fun-filled atmosphere where children can burn off some energy without burning up in the summer heat, and parents can join in the fun or relax in comfort from the sidelines.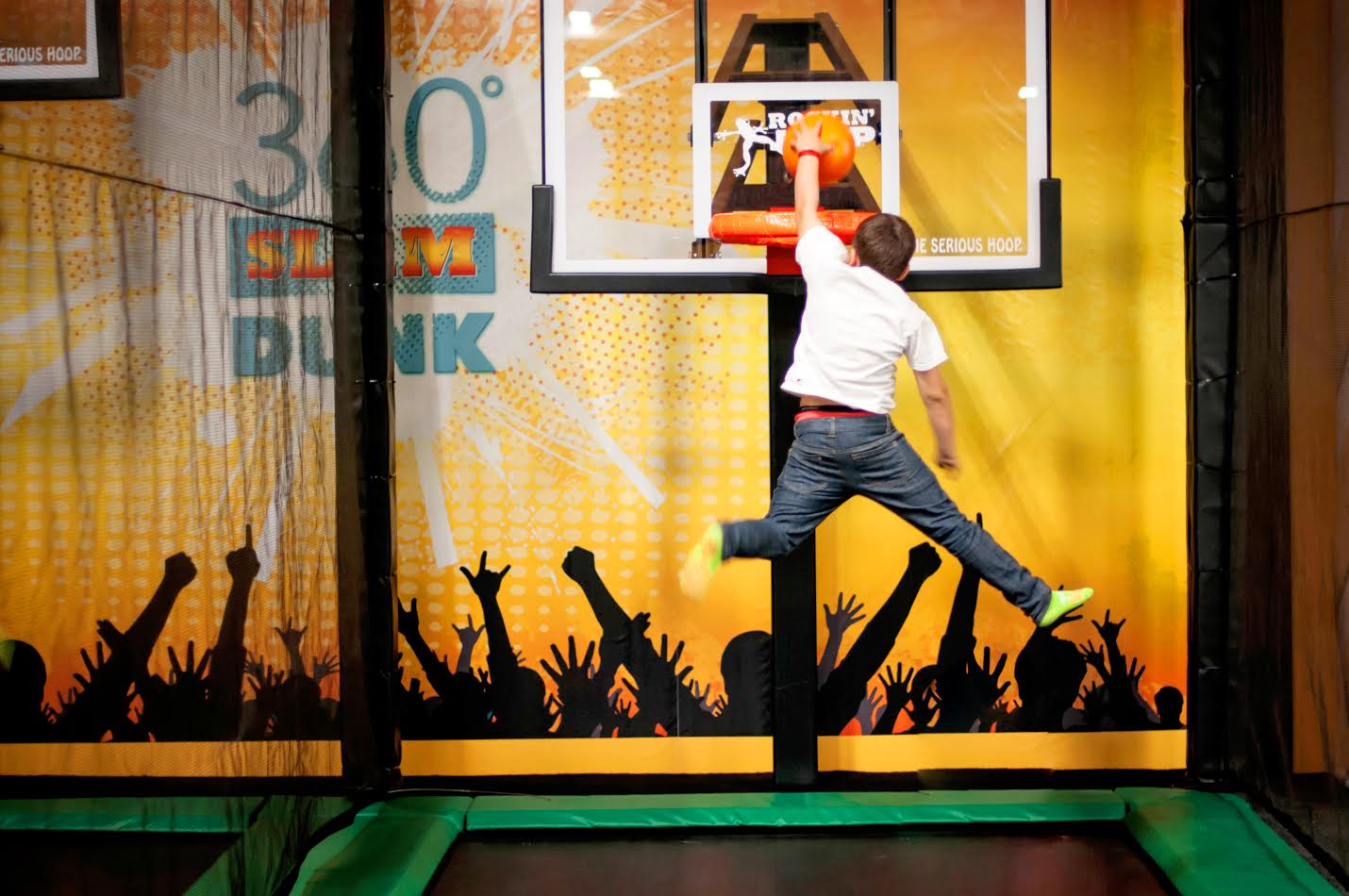 Slam Dunk Zone
Featuring padded play stations for activities like trampoline dodgeball, Slam Dunk Zone basketball, X-Beam jousting, and massive arenas for jumping and bouncing, Rockin' Jump Carol Stream is the cure to the summertime blues. Providing patrons with a fun and secure environment to play while putting a premium on safety and cleanliness is what separates Rockin' Jump from the rest.
"SAFE. CLEAN. FUN." is more than just a motto; it's our mission. Of course, Rockin' Jump and parents care deeply about the SAFE and the CLEAN, so the kids can focus on the FUN. Providing families with a happy and healthy environment to play while putting a premium on safety and cleanliness is what separates our parks from the rest.
SAFE
Social media is filled with memes posted by grown-ups longing for the good ol' summer days of running loose around the neighborhood, and riding bikes and skateboards on the streets and sidewalks, or climbing trees and diving into the nearest swimming holes to cool off. But simply telling the kids to go outside to play and find their own fun doesn't fly in today's world. The reality is that times have changed, not the kids. They still want to have fun.
With more than half of the world's population now living in cities instead of rural areas (for the first time in history), the landscape has changed greatly for today's youth. Open fields and forests have been replaced by concrete jungles and suburban centers, with more dangers and hidden hazards around every corner than previous generations had to encounter.
Another changing factor is the heat: 2016 was the hottest year on record, breaking the mark previously set by 2015. In fact, six of the last seven summers have ranked among the hottest in U.S. history. With the risks of heat stroke, heat exhaustion, and sun exposure on the rise, kids are at risk more than ever before.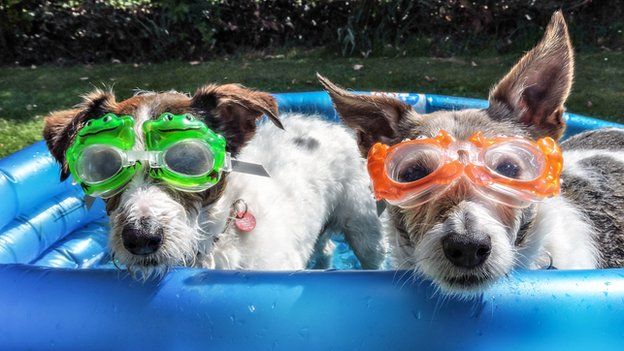 Parents can find a fun place for the kids to play without worrying about whether they are safe and sound at Rockin' Jump Carol Stream. In addition to providing an indoor, climate-controlled environment where the little ones can work up a sweat without overindulging, Rockin' Jump also sets the industry standard on safety technology and equipment, as well as supervision.
As a founding member of the ASTM International, a not-for-profit group that develops and studies safety standards for the amusement industry, Rockin' Jump is on the cutting edge of safety technology. Our management team attends regular meetings to ensure all of our parks and employees are at the top of their game when it comes to the safety for our patrons.
Each station is monitored by a Jump Patrol team member, who handles everything from crowding issues to rule enforcement. Similar to a lifeguard on dry land, they also provide jumpers with coaching on how to safely use the equipment in each arena. Rockin' Jump undergoes regular safety inspections and routine maintenance to identify potential problems and make needed repairs.
All trampoline beds are fully covered and padded, ensuring jumpers cannot fall on or through the springs. The jumping arenas also feature redundant nets, which serve as a secondary safety device underneath the trampolines. Padding covers all metal posts in the arenas to protect jumpers from injury, as well as netting around the top of all arenas.

Rockin' Socks
Rockin' Jump Carol Stream also offers its own brand of no-slip socks (available for purchase), which are designed to reduce slipping and friction burns. We also set aside special times and space for younger jumpers, less-experienced jumpers, and special-needs children who require a little more and extra attention to learn how to gain confidence on the obstacles.
CLEAN
For many parents, their first experience with an "indoor playground" probably came at a fast-food restaurant, or birthday party at one of the many inflatable bounce-house venues that sprang up in the early 2000s. Odds are they did not leave a good first impression, as parents cringed at the thought of their little ones scrambling around in the filthy ball pit.
These fly-by-night playhouses and restaurant sideshow attractions have begun to fade out of sight due to safety and health concerns. Aside from the obvious design flaws that left children susceptible to injury, the greatest dangers were the germs and bacteria deposited and spread by little ones in spaces so tiny that they were impossible to keep clean.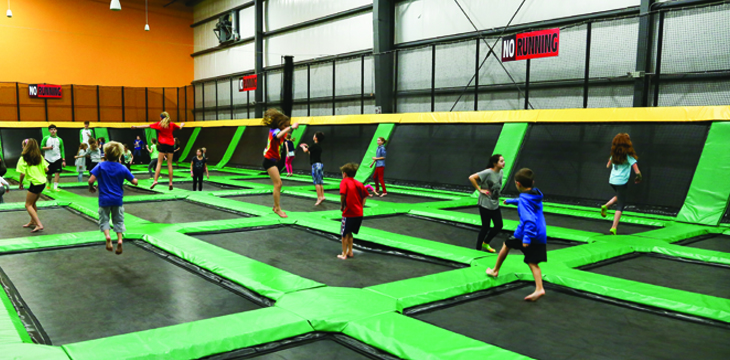 Main Jump Arena
Enter Rockin' Jump, which has taken safety and cleanliness to the next level. Rockin' Jump is committed to maintaining a spotless environment for your kids to play without fear of them being exposed to potentially unhealthy materials. We have top-of-the-line cleaning crews that are effective in keeping the arenas sanitary without the use of dangerous chemicals.
Parents of children with allergies or other conditions that can make playing in the great outdoors not-so great, Rockin' Jump Carol Stream provides a safe haven where they can play just like their friends. Our climate-controlled environment not only allows kids to play without overheating, but the clean ventilation system also makes it safe for those with allergies.
Rockin' Jump's commitment to cleanliness is not only evident in our play arenas, but also throughout the facility. We have employees whose sole responsibility is to monitor restrooms and other common areas to report and prevent any issues with cleanliness and clutter. Guests are also encouraged to report any problems to our staff for immediate attention.
Rockin' Jump Carol Stream also provides cleaning stations with anti-microbial hand sanitizer throughout our facilities so that jumpers can use them frequently, especially before taking a break to enjoy a snack or cool off with a cold drink. Patrons can count on us for clean and healthy food and drink service at our Rockin' Jump Cafe and in the private party rooms.
Our Rockin' Cafe offers excellent pizza, sandwiches, pretzels, salads and other healthy alternatives and snacks, as well as a clean and spacious seating area where guests can relax. The private rooms are scrubbed free of cake and ice cream after every party so each birthday boy and girl can enjoy a fresh room with their friends and family on their special day.
FUN!
Alas, the only thing that kids really care about – the FUN! All the safety and sanitary measures taken by Rockin' Jump may be lost on the little ones when their eyes light up at the first sight of our spacious play stations. The sounds of children laughing and playing tell kids everything they need to know about the main attraction of the trampoline park.
Featuring a series of arenas with a wide selection of activities, Rockin' Jump Carol Stream provides a fun and safe alternative to the streets, sidewalks and swimming pools that children tend to gravitate to in the summertime. And the indoor, climate-controlled environment allows kids to have good, clean fun without the health risks associated with the sun and heat.
The Open Jump Area is a popular spot for kids to start their visit our park to take the trampoline floor for a test spin. It's a great place to warm up for a fun day at the park to get your "trampoline legs" under you. The Stunt Bag is the perfect place for children interested in gymnastics to practice their jumps and work on developing some new moves into a padded pit for a safe and soft landing.
For children interested in competition, both individual and team, Rockin' Jump Carol Stream has the ideal venues in their sports arenas. The X-Beam jousting pit allows kids to go one on one with padded batons, where the only down side (reward) to losing is a soft landing in the padded pit below. The winners often can't help but take a celebratory leap into the cushions as well.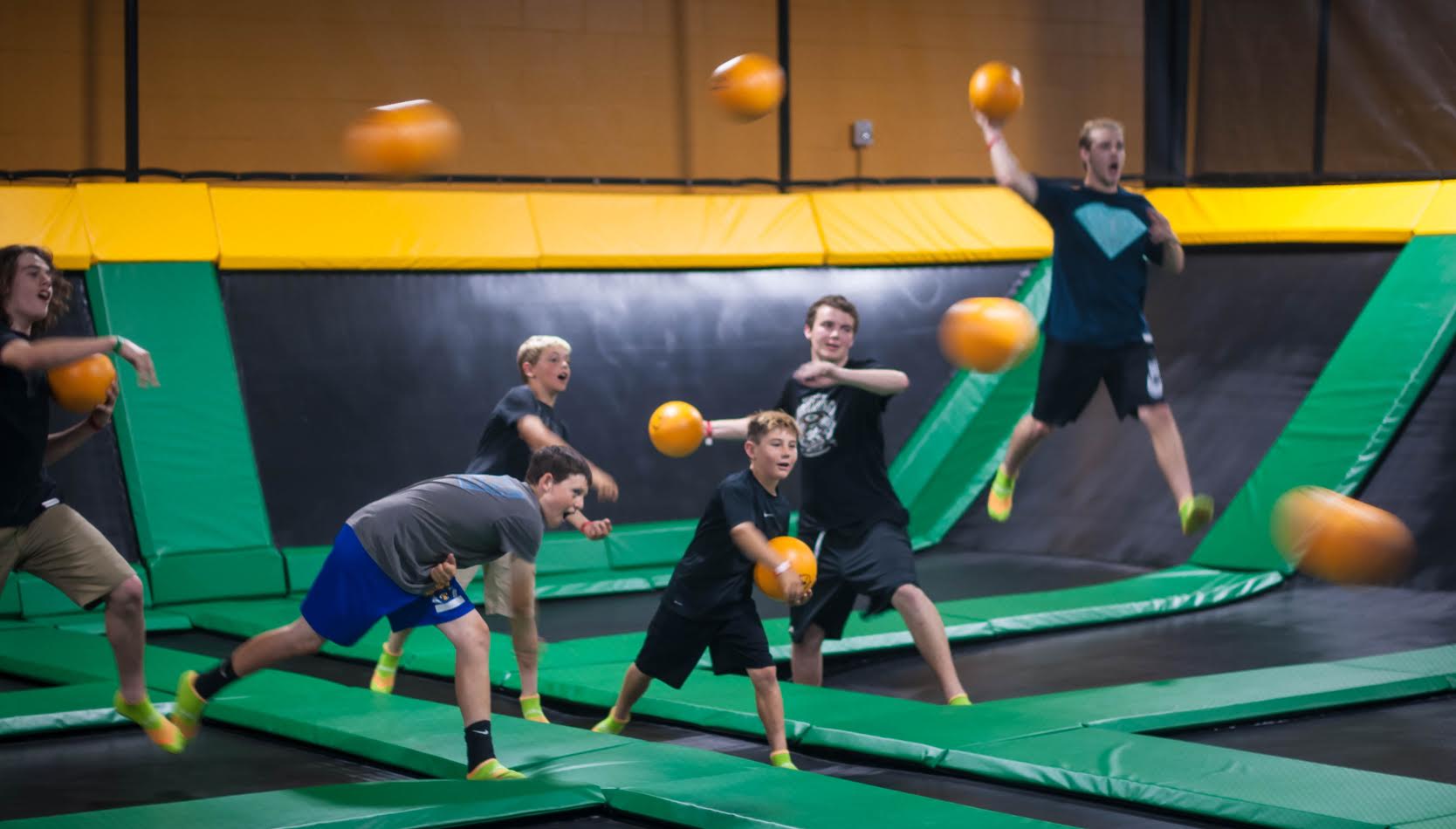 Dodgeball Arena
The Dodgeball Arena is a far cry from the dangerous encounters in gym class. Featuring padded walls, a trampoline floor and soft dodgeballs that can barely be detected on impact, Rockin' Jump gives children all the enjoyment of a competitive dodgeball game without the risk of injury or pain of being struck in sensitive areas.
The Slam-Dunk Zone basketball hoop is among the most popular attractions for little ones who have dreams of playing in the NBA. The padded rim and trampoline surface allow kids to grab some serious air and get creative on their slam dunks. Children can play solo and practice their moves, play one on one with a friend, or join in a pick-up game. Our Safety Patrol is always on alert to ensure kids of all sizes get their time to shine.
Oh, did we forget about the parents? Adults who are still kids at heart are also allowed to join in the fun in the arenas. But for those who prefer to give the little ones some space, the Rockin' Cafe and Lounge Area provide a nice place to relax with a cup of coffee, read a good book, or take advantage of the free Wifi to do some work online. You can watch your favorite show on one of our many big-screen TVs while also keeping an eye on the kids via our closed-circuit camera system. Kids can also take a break from the action for a snack or drink at the Rockin' Café.
Rockin' Jump Carol Stream offers play by the hour, special events, birthday parties, and other functions for kids to enjoy. So for some good, clean summertime fun, bring the kids to Rockin' Jump and rest easy knowing they will have a happy and healthy experience.
It's all part of Rockin' Jump's commitment to "SAFE. CLEAN. FUN."